Dragon Naturally Speaking Reviews

- 2002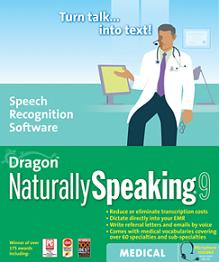 ---
ScanSoft Launches Dragon NaturallySpeaking® XP Edition in Europe with the Broadest Language Support Available
New Dragon NaturallySpeaking® XP Edition Supports Automatic Dictation in Five European Languages; Home, Office and Vertical Versions Available Through Resellers, Retailers and VARs
PEABODY, Mass. and GENT, Belgium, June 06, 2002 - ScanSoft, Inc. (Nasdaq: SSFT), a leading supplier of imaging, speech and language solutions, today launched ScanSoft® Dragon NaturallySpeaking® XP Edition, the latest release of its award-winning speech recognition software for Europe. The new Dragon NaturallySpeaking software is available for home, small business, corporate and vertical market customers, supporting an unmatched range of languages, including Dutch, German, French, Italian and Spanish. Versions of the product supporting World English, Japanese and Chinese were introduced earlier this year.
ScanSoft Dragon NaturallySpeaking is the market-leading automatic dictation and speech recognition product for Microsoft® Windows® and Windows XP. The highly accurate speech product allows users to create documents at up to 160 words-per-minute, saving time and increasing worker productivity. Dragon NaturallySpeaking also enables voice-control of Microsoft Windows operating system commands and third-party PC applications, giving users an efficient way to start programs, save files, surf the Web and create email.
"As a lawyer, I needed a dictation product that allows me to get more work done in less time and, to be useful, knew that it would have to be highly accurate. I found the solution in Dragon NaturallySpeaking," said Alexandre Lemercier, a lawyer in Périgueux, France. "After using the product, I can say that Dragon NaturallySpeaking is a 'must-have' application for people that want to quickly create documents and reports."
Dragon NaturallySpeaking achieves its accuracy in part through a built-in vocabulary of more than 250,000 words, and through its support for adding custom vocabularies. The product is available in four editions, giving users the freedom to select a product that meets their specific needs. These include:
Dragon NaturallySpeaking™ XP Edition Standard is a highly accurate, easy-to-use speech recognition product focused on creating text documents and e-mails for home computer users and their families.
Dragon NaturallySpeaking™ XP Edition Preferred is a full featured, highly accurate, easy-to-use speech recognition product focused on creating and editing text documents, reports and e-mails for small office and home office users.
Dragon NaturallySpeaking™ Professional is ScanSoft's leading speech recognition product aimed at the professional and corporate user. DNS Professional is a powerful productivity tool that enables corporate and professional users to work faster and more efficiently.
Dragon NaturallySpeaking™ XP Edition Legal is available in German and is designed for the special needs of legal professionals. It includes an extensive vocabulary of legal terms, phrases and acronyms.
"ScanSoft is breaking new ground with its first branded speech recognition product line for the European marketplace. By offering Dragon NaturallySpeakingÒ XP Edition in different levels of functionality and in five different languages, ScanSoft broadens the market for speech and illustrates its continued commitment to serving a diverse user base," comments Peter Hauser, Senior Vice President and General Manager International for ScanSoft.
Key benefits of the Dragon NaturallySpeaking XP Edition include (features may vary by edition):
The industry's highest accuracy rate for desktop automatic speech recognition
Converting voice into text at up to 160 words-per-minute
Hands-free, voice-enabled control of Microsoft Windows-based applications
Ability to expand and customize the vocabulary
Option to have e-mails and other documents read aloud using the award-winning RealSpeak™
Fast Web surfing using your voice to navigate URLs
Keyboard-less text entry for popular instant messaging, chat and e-mail programs
Availability and Support
The new Dragon NaturallySpeaking XP Edition will be available beginning in June through ScanSoft's network of VAR's, retailers, Web store and catalogues. For additional information on features, system requirements and pricing, please visit www.scansoft.com/international.
About ScanSoft, Inc.
ScanSoft is the leading supplier of imaging, speech and language solutions that are used to automate a wide range of manual processes - saving time, increasing worker productivity and improving customer service.
Trademark reference: ScanSoft, NaturallySpeaking and RealSpeak are registered trademarks or trademarks of ScanSoft, Inc. in the United States and other countries. All other company names or product names referenced herein may be the trademarks of their respective owners.
The statements in this press release that relate to future plans, objectives, events or performances, including without limitation, the projected shipment dates and customers' opting to upgrade to newer or more fully featured products, are forward-looking statements that involve risks and uncertainties, including risks associated with market trends, competitive factors, and other risks identified in the Company's SEC filings. Actual results, event and performance may differ materially. Readers are cautioned not to put undue reliance on these forward-looking statements that speak only as of the date hereof.
Order Dragon Naturally Speaking
Schedule your FREE Medical Transcription Software Demo today.
View the History of Voice Recognition and Speech Recognition Software