Dragon Naturally Speaking Reviews

- 2002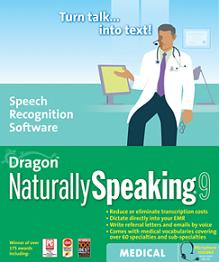 ---
Sirsi Selects ScanSoft RealSpeak to Service Libraries Worldwide
Natural-Sounding Text-to-Speech Technology Provides Automated 24-Hour Telephone Access to Library Information and Services
PEABODY, Mass., and HUNTSVILLE, Ala., June 17, 2002 - ScanSoft, Inc. (Nasdaq: SSFT), a leading supplier of imaging, speech and language solutions, and Sirsi Corporation, a leading global provider of software and services to the library industry, today announced that Sirsi has licensed ScanSoft® RealSpeak™ to integrate synthesized speech into its Sirsi Voice Automation (SVA) telephone notification system, an application used by public libraries worldwide. SVA is a module of Sirsi's UnicornOasis® Library Management System, a fully integrated, flexible management system for public libraries of all sizes.
The SVA telephone notification system is a convenient, automatic way for users to utilize a wide range of library services 24 hours a day, such as renewal of library materials and checking the status of books on hold. Libraries are also able to contact users automatically to deliver phone-based reminders regarding books on hold, overdue items and upcoming library events. Users also have the option of selecting a PIN to keep personal information secure.
SVA uses the ScanSoft RealSpeak text-to-speech product as its "voice" for conveying information through inbound and outbound applications. For users who call into the SVA system at their local library, RealSpeak is able to quickly deliver answers to user inquiries using a human-sounding synthesized voice. For outbound applications, such as automatically calling library cardholders to remind them of overdue books, RealSpeak can convey the request with appropriate emphasis.
"The SVA voice will be the most prominent and identifiable feature for library users, making our selection of an outstanding text-to-speech solution especially important," said Lamar Jackson, Sirsi's director of business alliances. "Scansoft's RealSpeak met the challenge by providing a single interface that supports up to 19 languages, delivering real-time performance, and exceeding our expectations of voice quality."
ScanSoft's RealSpeak is the market-leading product for converting text into human-sounding synthesized speech. The technology is used for a wide range of applications, including delivering emails for unified messaging systems, providing prompts for interactive voice response (IVR) applications, and speech-enabling mobile, automotive, game and PC/multi-media applications.
"ScanSoft is pleased to be partnering with Sirsi to offer millions of library users around the world the benefits of RealSpeak's natural-sounding text-to-speech technology," said Wayne Crandall, senior vice president of sales and business development at ScanSoft. "By deploying ScanSoft's text-to-speech technology to automate library information and services, Sirsi validates the productivity gains and versatility of RealSpeak."
About RealSpeak
RealSpeak offers a single, standardized application programming interface (API) that enables the deployment of speech-enabled applications in 19 languages: US and UK English, German, French, Dutch & Belgian Dutch, Castilian and Mexican Spanish, Italian, European and Brazilian Portuguese, Norwegian, Polish, Swedish, Danish and Cantonese & Mandarin Chinese, Korean and Japanese.
ScanSoft RealSpeak offers unmatched support for hardware systems, including Hitachi, Intel® (Pentium®, Strong ARM® and XScale®), MIPS® and NEC®, as well as operating systems, including Linux®, Microsoft® Windows® and Windows® CE, and Sun Solaris®.
About ScanSoft, Inc.
ScanSoft, Inc. is the leading supplier of imaging, speech and language solutions that are used to automate a wide range of manual processes-saving time, increasing worker productivity and improving customer service. For additional information on the company, please visit www.ScanSoft.com.
UnicornOasis and SVA
Sirsi Voice Automation is a module of Sirsi's UnicornOasis® system for public libraries. UnicornOasis provides an online community gathering place for modern information seekers through the iBistro Electronic Library, which provides library users with convenient, powerful access to library-caliber content via the Internet, and the easy-to-use WorkFlows client, which provides library staff with a single graphical client to manage all areas of library operations.
About Sirsi
Sirsi recognizes that today's librarians are on a mission to break down walls - barriers that limit the knowledge and resources accessible to library users. A partner with leading libraries around the globe since 1979, Sirsi provides software and services that assist libraries in breaking down walls, thereby promoting learning, empowerment, and opportunity for diverse user communities. Sirsi's portfolio of products and services includes the iBistro and iLink e-Library solutions, hailed as "groundbreaking technology;" the Unicorn Library Management System, the industry's most complete integrated library system; the Hyperion Digital Media Archive, a solution especially for libraries' digital collections; and a full slate of consulting, networking, training, and support services.
Trademark reference: ScanSoft and RealSpeak are registered trademarks or trademarks of ScanSoft, Inc. in the United States and other countries. Sirsi and TalkToMe are trademarks of Sirsi Corporation. All other company names or product names referenced herein may be the trademarks of their respective holders.
The statements in this press release that relate to future plans, events or performances are forward-looking statements that involve risks and uncertainties, including risks associated with market trends, competitive factors, and other risks identified in the Company's SEC filings. Actual results, events and performance may differ materially. Readers are cautioned not to put undue reliance on these forward-looking statements that speak only as of the date hereof.
Order Dragon Naturally Speaking
Schedule your FREE Medical Transcription Software Demo today.
View the History of Voice Recognition and Speech Recognition Software