Dragon Naturally Speaking Reviews

- 2002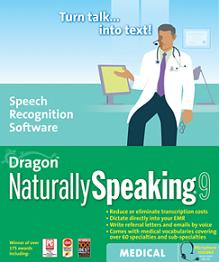 ---
ScanSoft's Dragon NaturallySpeaking Wins 2002 Law Office Computing Readers' Choice Award
Legal Professionals Select Dragon NaturallySpeaking Legal Solutions to Replace Manual Transcription and Typing with Automatic Speech Recognition - at Up To 160 Words Per Minute
PEABODY, Mass., Aug. 7, 2002 - ScanSoft, Inc. (Nasdaq: SSFT), a leading supplier of imaging, speech and language solutions, today announced that Dragon NaturallySpeaking® v6 Legal Solutions, its award-winning speech recognition software designed specifically for the legal community, has won the prestigious Law Office Computing Readers' Choice Award for "Best Speech Recognition Technology." The winners of the Readers' Choice Awards represent the most widely used applications in the legal community.
Users in the legal community value Dragon NaturallySpeaking v6 Legal Solutions for the productivity gains and cost savings that accurate speech recognition delivers to their organizations. The product replaces manual typing and transcription tasks with automatic speech recognition and speech-to-text capabilities. In a recent product review featured in the June/July 2002 issue of Law Office Computing, Dragon NaturallySpeaking was described as "an excellent choice for those seeking to minimize their own typing or to maximize the productivity of office staff."
"We are pleased to be recognized by the readers of Law Office Computing, who ultimately are ScanSoft customers and users of Dragon NaturallySpeaking," said Robert Weideman, vice president of worldwide marketing at ScanSoft. "The award underscores our success in delivering value to legal organizations of any size, and in our commitment to eliminating the barriers to productivity - wherever they exist."
Developed through close interaction with the legal community, Dragon NaturallySpeaking Legal Solutions is the only speech recognition product created to address the workflow and vocabulary needs of the lawyer, paralegal and legal administrative professional. Using the product, legal professionals can create documents, forms and briefs at up to 160 words-per-minute - significantly faster than average typing speeds. The product assures accuracy in part due to its standard vocabulary of more than 250,000 terms, and through its comprehensive legal vocabulary containing Latin and French law phrases, court names and abbreviations and specialized legal terms. Custom vocabularies can be easily added to the system.
The product delivers additional productivity and quality enhancements through its support for creating word and phrase commands. "Enter standard disclaimer" can be set up to insert a standardized block of disclaimer text, for example. The product can also be integrated with other applications, including electronic records management systems, electronic forms and Legal billing products.
Key features and benefits of Dragon NaturallySpeaking Legal Solutions include:
The industry's highest accuracy rate for automatic speech recognition
Converts voice into text at up to 160 words-per-minute - significantly reducing typing tasks
Automatic recognition of legal terms and phrases - reducing errors and spelling mistakes
Customized word and phrase commands - increasing speed and quality through standardized text
Option to have e-mails and other documents read aloud using built-in text-to-speech
Mobile dictation using supported handheld digital recording devices - Delivering mobile productivity
Ability to save recorded speech along with your document for later proof reading and correction by an assistant - delivering an affordable alternative to transcription services
Pricing and Availability
ScanSoft Dragon NaturallySpeaking Legal Solutions is available now through ScanSoft's resellers, Web store, catalogs and value-added resellers for $995. For additional information on features, system requirements and pricing, please visit www.ScanSoft.com or call (800) 654-1187.
About ScanSoft, Inc.
ScanSoft, Inc. is the leading supplier of imaging, speech and language solutions that are used to automate a wide range of manual processes -- saving time, increasing worker productivity and improving customer service.
Trademark reference: ScanSoft and Dragon NaturallySpeaking are registered trademarks or trademarks of ScanSoft, Inc. in the United States and other countries. All other company names and product names mentioned herein may be the trademarks of their respective owners.
The statements in this press release that relate to future plans, events or performance are forward-looking statements that involve risks and uncertainties, including risks associated with market trends, competitive factors, and other risks identified in ScanSoft's SEC filings. Actual results, events and performance may differ materially. Readers are cautioned not to put undue reliance on these forward-looking statements that speak only as of the date hereof.
Order Dragon Naturally Speaking
Schedule your FREE Medical Transcription Software Demo today.
View the History of Voice Recognition and Speech Recognition Software