Dragon Naturally Speaking Reviews

- 2002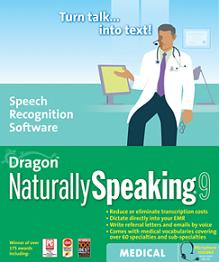 ---
Centrinity Selects ScanSoft RealSpeak Text-To-Speech for its FirstClass Communications Platform
ScanSoft's Text-to-Speech Solution Allows Leading Unified Messaging System to Deliver eMail, Schedules and Text Information Over the Phone - Anytime and Anywhere
PEABODY, Mass., September 10, 2002 - ScanSoft, Inc. (Nasdaq: SSFT), a leading supplier of imaging, speech and language solutions and Centrinity Inc. (TSE: CTI), a leading provider of cost-effective, highly scalable, feature-rich messaging and collaboration solutions, today announced that ScanSoft® RealSpeak™ is the integrated text-to-speech (TTS) solution for the Centrinity FirstClass Communications Platform. Centrinity has also selected ScanSoft as a strategic Technology Partner.
The FirstClass Platform combines Centrinity's Collaborative Groupware and Unified Communication technologies into an integrated communications system, providing users with a variety of productivity benefits, from mobile email and voice mail access to complete unified messaging capabilities.
ScanSoft RealSpeak adds sophisticated synthesized speech capabilities to the system, giving users access to email, conferencing, directories and calendaring information using mobile, cell and land-based phones. RealSpeak automatically converts text into human-sounding speech, and includes powerful text pre-processing capabilities that dynamically expand abbreviations and special text into appropriate spoken information that can be easily understood. RealSpeak would read "San Diego, CA" and say "San Diego (pause) California," for example.
"As part of our ongoing commitment to provide our customers with outstanding services and support, we have selected first-rate companies like ScanSoft to join our partner program," said John Myers, executive vice president and chief operating officer, Centrinity Inc. "As the wireless and mobile device market continues to grow, ScanSoft will be a key partner for Centrinity in our ongoing commitment to deliver feature-rich, scalable and affordable communication solutions to our customers, increasing their productivity and improving communications for individual and organizations."
Since its inception in 1989, Centrinity has been enabling users to communicate and share valuable resources through email, conferencing, directories, calendaring and online chats using text-to-speech technology. Centrinity's FirstClass unified communications system seamlessly converges email, voice and fax messages into one unified mailbox, enabling users to access all of their data and messages using nearly any communications device - anytime, anywhere.
As a member of the Centrinity Partner Program, ScanSoft joins other industry leaders that provide technology that is integrated into Centrinity's FirstClass to bring best-of-breed solutions from a wide cross-section of technology sectors to address the needs of service providers, enterprise accounts and the government and education marketplace.
"We are pleased that Centrinity has selected ScanSoft RealSpeak to speech-enable FirstClass," said Wayne Crandall, senior vice president of business development and sales at ScanSoft. "The extended agreement between our two companies, as well as our selection as a Technology Partner, reflects ScanSoft's market leadership, as well as Centrinity's continued endorsement of ScanSoft's solutions."
About RealSpeak
ScanSoft's RealSpeak is the market-leading product for converting text into human-sounding synthesized speech. The solution is used for a wide range of applications, including delivering emails for unified messaging systems, providing prompts for interactive voice response (IVR) applications, and speech-enabling mobile, automotive, game and PC/multi-media applications. ScanSoft RealSpeak offers unmatched support for hardware systems, including Hitachi, Intel® (Pentium®, Strong ARM® and XScale®), MIPS® and NEC®, as well as operating systems, including Linux®, Microsoft® Windows® and Windows® CE, and Sun Solaris®.
RealSpeak offers a single, standardized application programming interface (API) that enables the deployment of speech-enabled applications in 19 languages: US and UK English, German, French, Dutch & Belgian Dutch, Castilian and Mexican Spanish, Italian, European and Brazilian Portuguese, Norwegian, Polish, Swedish, Danish and Cantonese & Mandarin Chinese, Korean and Japanese.
About FirstClass Communications Platform
FirstClass is a software messaging platform that combines Centrinity's award-winning Collaborative Groupware and Unified Communications technologies into one Common Communications Platform. At the foundation of the FirstClass Communications Platform is Centrinity's Collaborative Groupware, which provides users with the ability to effectively communicate and share valuable resources through email, conferencing, directories, calendaring and online chats.
Centrinity's FirstClass Unified Communications technology, seamlessly converges email, voice mail and fax messages into one unified mailbox thereby enabling users to access all of their data and messages via the device of their choice including cell phone, telephone, computer and handheld devices - anytime, anywhere.
About Centrinity Inc.
Centrinity is a leading provider of cost-effective, highly scalable, feature-rich messaging and collaboration solutions to service providers, enterprises, governments, and learning organizations. Our award-winning software solutions are designed to enhance productivity and efficiency by simplifying and facilitating communications and information-sharing for both individuals and groups of people working together. Centrinity is listed under the symbol 'CTI' on the Toronto Stock Exchange. Website: www.centrinity.com.
About ScanSoft
ScanSoft, Inc. is the leading supplier of imaging, speech and language solutions that are used to automate a wide range of manual processes-saving time, increasing worker productivity and improving customer service. For additional information on the company, please visit www.scansoft.com.
Trademark reference: ScanSoft and RealSpeak are registered trademarks or trademarks of ScanSoft, Inc. in the United States and other countries. All other company names or product names referenced herein may be the trademarks of their respective holders.
The statements in this press release that relate to future plans, events or performance are forward-looking statements that involve risks and uncertainties, including risks associated with market trends, competitive factors, and other risks identified in ScanSoft's SEC filings. Actual results, events and performance may differ materially. Readers are cautioned not to put undue reliance on these forward-looking statements that speak only as of the date hereof.
Order Dragon Naturally Speaking
Schedule your FREE Medical Transcription Software Demo today.
View the History of Voice Recognition and Speech Recognition Software