Dragon Naturally Speaking Reviews

- 2002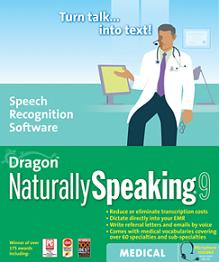 ---
ScanSoft Ships RealSpeak 3.5; Supports SSML Standard, Enhances Language Capabilities, Improves Quality and Performance
New Features in Market-Leading Text-to-Speech System Result in the Lower Cost of Implementation and Deployment of Speech-Enabled Telephony Applications
PEABODY, Mass., October 1, 2002 - ScanSoft, Inc. (Nasdaq: SSFT), the leading supplier of imaging, speech and language solutions, today announced the release of ScanSoft® RealSpeak™ Telephony 3.5, the newest version of the industry's preeminent Text-to-Speech (TTS) solution. RealSpeak 3.5 expands the product's leadership in synthesized speech quality and performance, while enhancing its language capabilities and support for industry standards. It also delivers new features that reduce the time and cost associated with developing and deploying speech-enabled telephony applications.
RealSpeak has become the market-leading TTS solution for customer-facing telephony applications in part because it provides a single programming interface that supports 19 languages. Multi-language capabilities are especially critical for applications servicing regional markets, such as North America, South America, Western and Eastern Europe and Asia. RealSpeak powers a growing number of telephony applications, including those from Alcatel, Avaya, Cisco, Comverse, Ericsson, Intervoice, Nortel, Philips, Seimens and Unisys.
"The stream of RealSpeak design win announcements has been impressive over the last six months, resulting in an ever-growing number of applications that are powered by RealSpeak," said Robert J. Weideman, Chief Marketing Officer for ScanSoft. "The capabilities delivered in this release can help accelerate the success of RealSpeak and further establish it as the de facto standard 'voice' of global telephony applications."
With the new release, ScanSoft has focused on expanding the value of RealSpeak for deploying customer-facing telephony applications, including voice portals, customer self-service, directory assistance, unified messaging, and interactive voice response applications. New features and improvements in RealSpeak 3.5 include:
SSML - New support for the Speech Synthesis Mark-up Language standard, allowing RealSpeak to be easily integrated with commercial VoiceXML platforms
Client/Server Deployment - New support for integrating RealSpeak within applications using a client/server model. This enables distributed telephony applications to access a single, centralized RealSpeak TTS processing server
Port Density Simulator - The new deployment simulator is used to "right size" the RealSpeak server environment by providing an accurate measurement of how many simultaneous connections can be processed by a specific hardware/software configuration
RealSpeak Dual-Synthesis - RealSpeak has the ability to dynamically switch between Asian languages and US/UK English, which is particularly useful for instances where English works are interspersed with Asian speech. ScanSoft provides support for any mix of Cantonese/Mandarin Chinese, Korean, Japanese and US/UK English.
Quality Improvements - Enhancements to synthesised speech quality, including improved prosody and more granular playback control of TTS
Language Enhancements - A new, improved release of the Jennifer U.S. English voice
Developer Enhancements - A new visual editor for User Dictionaries which simplifies adding custom words to the system; Enhanced developer control of TTS processing
RealSpeak SSML
The Speech Synthesis Mark-up Language is the TTS component of the W3C VoiceXML framework, an emerging implementation standard for the telephony industry. By delivering native support for SSML within RealSpeak, ScanSoft has made it easy and affordable for VoiceXML vendors to integrate RealSpeak TTS within their applications.
RealSpeak Client/Server
RealSpeak Client/Server expands the benefits of its high-density capabilities to include multiple, distributed telephony applications. Now a single, centralized RealSpeak server can handle TTS connections from many different applications in a particular deployment, such as simultaneous requests from a unified messaging system and a call center application. The system supports heterogeneous server environments using Microsoft Windows NT/2000, Sun Solaris and Linux, providing organizations an additional opportunity to right-size their hardware investment and maximize their use of RealSpeak.
Port Density Simulator
High call volumes and a zero tolerance for down time combine to place extraordinary performance demands on telephony applications. The product has proven itself in many high-performance environments, most recently as the TTS voice for the FIFA World Cup and Le Mans voice portals, each visited by hundreds of thousands of sports fans throughout the world.
In order to help organizations customize their server environment; RealSpeak now includes a Port Density Simulator, a software utility that provides an accurate measurement of port density and TTS load handling for specific hardware/software configurations. The port density simulator helps organizations avoid the downtime associated with under-capacity, and avoid the costs associated with over capacity.
RealSpeak Dual-Synthesis
By providing a single development environment that supports over 19 languages, RealSpeak is the solution of choice for telephony applications that will interact with a multi-lingual customer base. Using the system, it is easy to create applications that "speak" a specific customer's language, dynamically changing languages on a customer-by-customer basis.
RealSpeak now helps developers overcome a more complex language challenge - dynamically using multiple languages within a single customer session, while maintaining quality and avoiding speech gaps. With the implementation of Dual-Synthesis, ScanSoft has simplified single connection, dual language implementations where the customer-facing TTS application needs to blend Mandarin/Cantonese Chinese, Japanese or Korean and U.S./U.K. English within a single connection with a user. This requirement stems from English-based company names, proper names and words that are adopted by the popular culture, and is especially common throughout Asia.
Pricing and Availability
ScanSoft RealSpeak Telephony 3.5 is available immediately from ScanSoft. Please visit www.ScanSoft.com/RealSpeak for live demonstrations and more information. Contact ScanSoft at 978.977.2000 for pricing and configuration details.
About ScanSoft, Inc.
ScanSoft, Inc. is the leading supplier of imaging, speech and language solutions that are used to automate a wide range of manual processes-saving time, increasing worker productivity and improving customer service. For additional information on the company, please visit www.ScanSoft.com.
ScanSoft and RealSpeak are registered trademarks or trademarks of ScanSoft, Inc. in the United States and other countries. All other company or product names mentioned herein may be the trademarks of their respective owners.
The statements in this press release that relate to future plans, events or performances are forward-looking statements that involve risks and uncertainties, including risks associated with market trends, competitive factors, and other risks identified in the Company's SEC filings. Actual results, event and performance may differ materially. Readers are cautioned not to put undue reliance on these forward-looking statements that speak only as of the date hereof.
Order Dragon Naturally Speaking
Schedule your FREE Medical Transcription Software Demo today.
View the History of Voice Recognition and Speech Recognition Software