Dragon Naturally Speaking Professional Voice Recognition Software - GSA
THIS IS GOVERNMENT PRICING - FOR COMMERCIAL INFO CLICK HERE
Description

MSRP

Commercial Price

GSA Price
Dragon Professional 10.0
$899
$765
CALL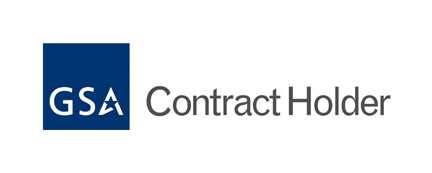 THIS IS GOVERNMENT PRICING - FOR STANDARD PRICING CLICK ON LINKS TO LEFT
Click here for
GSA Products: DNS Medical : DNS Professional: DNS Training
Downloadable Data Sheet: Professional (Click to view/ download)
Dragon NaturallySpeaking® Professional provides hands-free use of the PC, and enables users to quickly and accurately create documents, send e-mail, control the desktop, and more—all by speaking! Instantly increase your productivity by using speech to automate the way you work. Dragon NaturallySpeaking integrates with virtually any Windows®-based application, including Microsoft® Office Suite, Corel® WordPerfect®, and Lotus Notes®. Plus, built-in network deployment tools make it easy to utilize Dragon NaturallySpeaking from any PC in the organization. Use Dragon NaturallySpeaking with any Scansoft-approved handheld recorder, allowing third party editors to quickly correct transcriptions. Includes a noise-canceling headset microphone. Section 508 certified.
Key Benefits
FASTER THAN TYPING!
Most people speak over 120 words per minute, but type less than 40 words a minute. That means you can create letters and e-mails about three times faster with Dragon NaturallySpeaking!

MORE ACCURATE THAN EVER BEFORE!
With up to 99% accuracy, Dragon NaturallySpeaking 9 is typically more accurate than typing. Build custom vocabularies for your topics and attain even higher accuracy.

EASY TO USE!
Simply install the Dragon NaturallySpeaking CD, and in just a few minutes, you'll be dictating letters, e-mails and surfing the web by voice! We even include a noise-canceling microphone.

WORKS WITH THE PROGRAMS YOU USE!
Dictate, edit and control applications all by voice in Microsoft® Office®, Corel® WordPerfect®, Lotus Notes® and any other Windows®- based application.

NETWORK READY!
Use Dragon NaturallySpeaking from any PC on your organization's network.

MOBILE
Be productive on-the-go! Import recordings from any ScanSoft-certified handheld recorder for automatic transcription and have a third party editor quickly and easily make corrections.

USE A PC HANDS FREE
Dragon NaturallySpeaking is Section 508 certified to give people with disabilities hands-free use of the PC. The ideal tool to assist people with repetitive stress injuries, like carpal tunnel syndrome.
Minimum System Requirements:
Intel® Pentium® III / 500 MHz processor (or equivalent AMD® processor)

512 MB RAM (512 MB RAM recommended)

500 MB free hard disk space

Microsoft® Windows® Vista (32-bit versions only - not 64-bit), XP (SP1 or higher) Home and Professional, 2000 (SP4 or higher)

Creative® Sound Blaster® 16 or equivalent sound card supporting 16-bit recording

Microsoft® Internet Explorer 5 or higher (free download available at www.microsoft.com)

CD-ROM drive (required for installation)

ScanSoft-approved noise-canceling headset microphone (included)

Speakers (required for playback of recorded speech and text-to-speech features)

A Web connection is required for activation